AI formula generation, AI formula explanation, and more integrated in a modern Formula Editor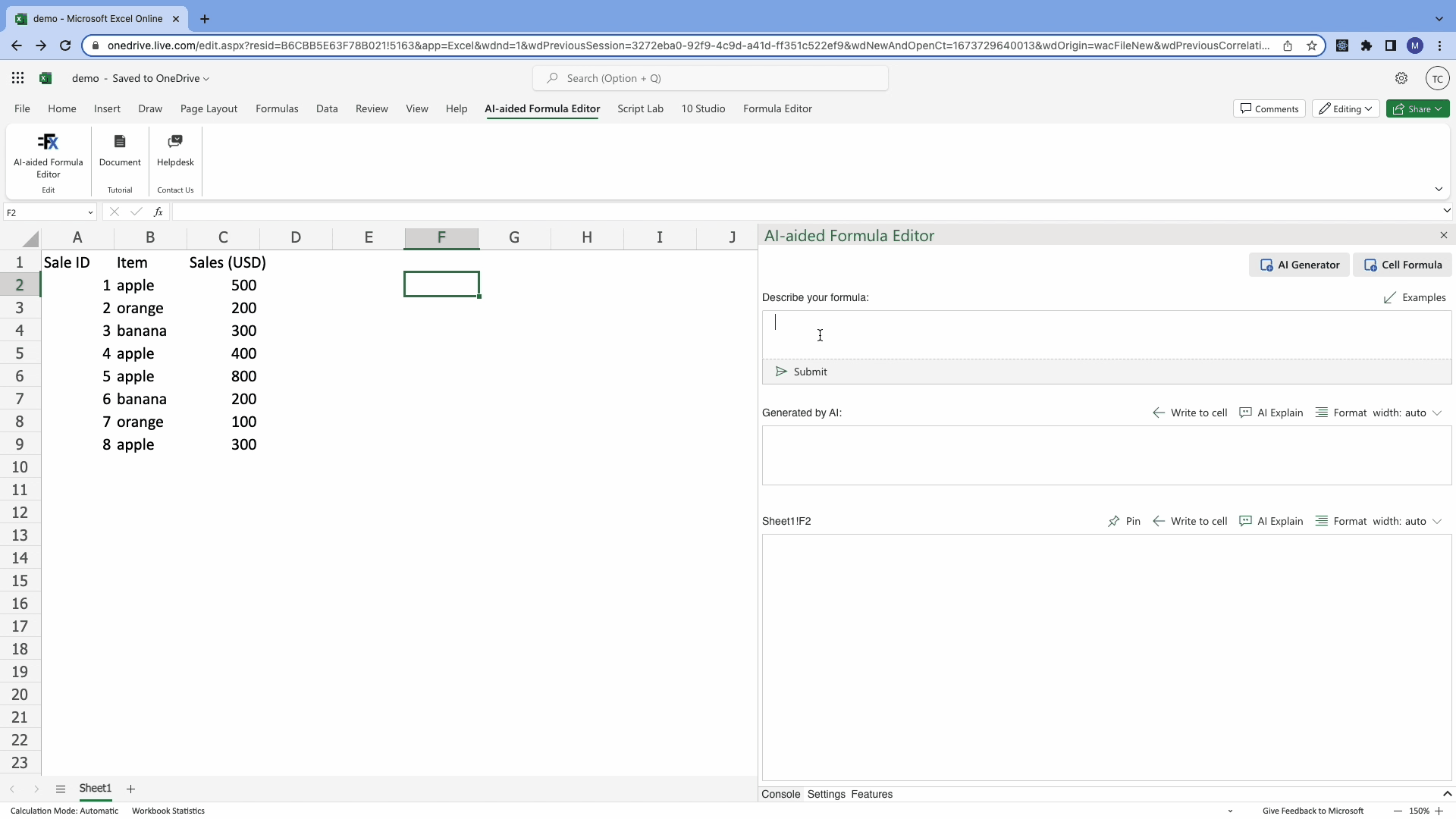 Introduction​
AI is revolutionizing the way you work with spreadsheets. This add-in integrates AI features in modern Formula Editors and brings the power of AI to your fingertips to help you better create, understand and edit Excel formulas.
AI formula generation:​
When you don't know how to write a formula, you can describe it in natural languages, then ask the AI to generate the Excel formula.
Formula Editor will help you validate the correctness of the formula. You can preview the result of the formula before adopting it.
AI formula explanation:​
Whenever you cannot understand a formula or a part of it, you can select it and ask AI to explain it.
Formula Editor will provide its evaluation value. AI explanation can be easily triggered by the button, hovering, or shortcuts (Ctrl+K Ctrl+I), and seamlessly assist you in working with formulas.
Other features of Formula Editor:​
Formula formatting: automatically pretty-print a long and complex formula in several lines with appropriate with whitespace indentation and proper nesting.
Error messages: point out on the fly the errors in a formula if they exist, explains the reason and proposes correction.
Formula optimization: automatically identify in your formula the part that can be improved in terms of correctness, readability, or efficiency.
Pricing and Plans​
Free Default Basic Plan

Access to non-AI features of the Formula Editor: formula formatting, evaluation, optimization, hinting, error messages, etc.
Limited Use of AI features: formula expression, explanation. For instance, 15 AI requests maximum a month.
Email & chat support.

Paid Pro Plan at $5.99 USD/month

Full access to all features of the Formula Editor: formula formatting, evaluation, optimization, hinting, error messages, etc.
Unlimited use of AI features: formula generation, explanation.
Priority email & chat support, including weekends; response within 3 minutes during working hours.
Early access to new features and updates.
Cancel anytime.
$10 discount coupon for our course "Spreadsheet Language and Programming": English version and Chinese version.
Installation​
For the store version, there are two possible ways:
For the desktop download version, see here.
Uninstallation​
To remove the store version,
Click the "Insert" tab (or "Home" tab for certain versions of Excel), and then click "My Add-ins".
Under "My Add-ins", click the 3 dots menu next to the add-in you want to remove.
Click "Remove".
Read the notice that appears and click "Remove".
Videos​
"Excel Tutorials by EasyClick Academy"
made great videos on the tool: